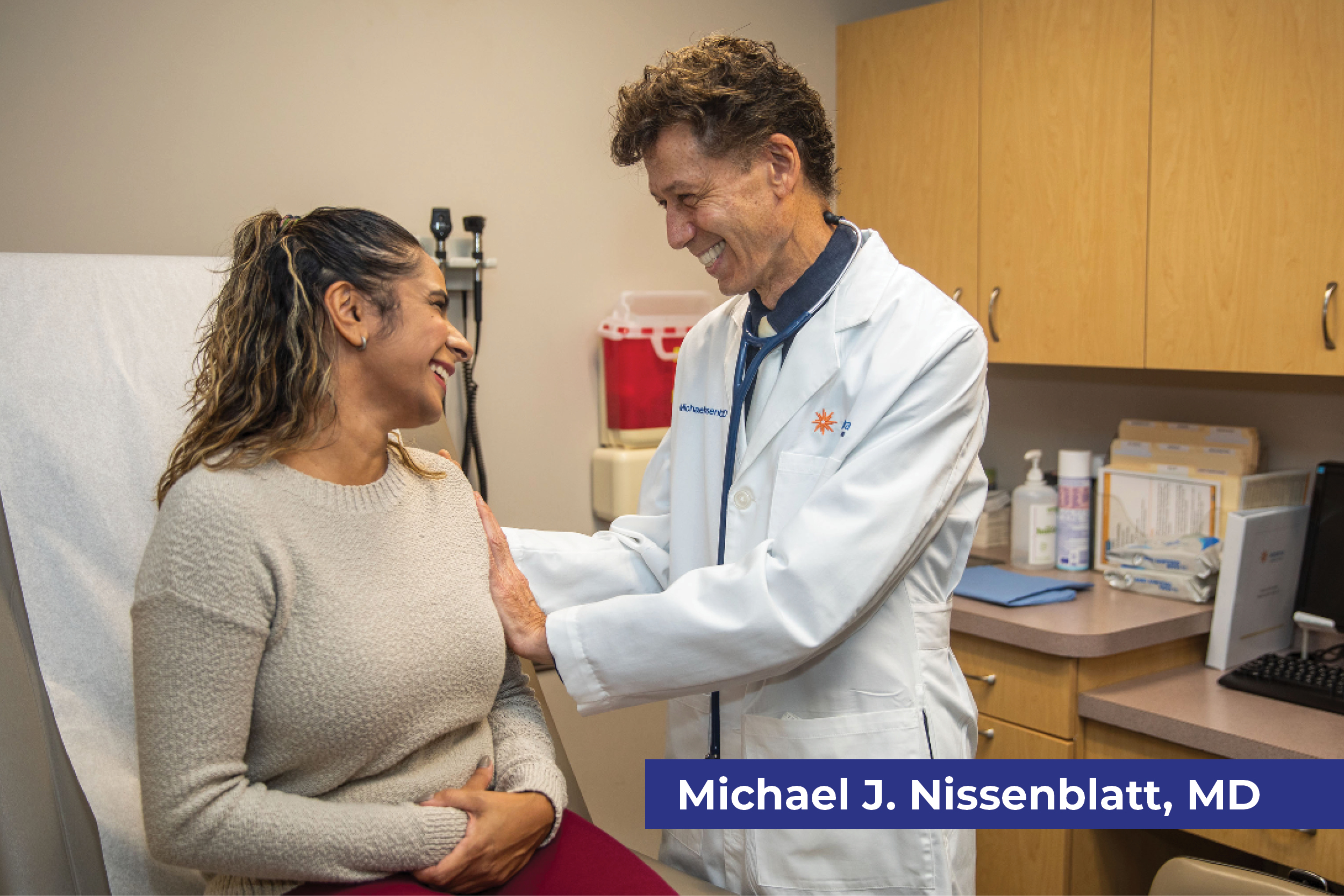 The Power of Philanthropy in Cancer Care
Renowned medical oncologist Michael J. Nissenblatt, MD, is one of Astera Cancer Care's founders. He is a passionate, inspired, and compassionate individual whose commitment to helping others extends well beyond the exam room.
Residency-trained at Johns Hopkins and a Clinical Professor of Medicine at Robert Wood Johnson Medical School at Rutgers University, Dr. Nissenblatt has been practicing for 30-plus years. In that time, he has been named a Top Doctor by New York Magazine, New Jersey Magazine, and Jersey's Best Magazine multiple times. In addition, he has won numerous awards from the American Cancer Society, RWJ/Barnabas University Hospital, and other organizations.
Dr. Nissenblatt treats diverse cancer types but has a particular interest in breast cancer. He has treated many notable individuals, including a former Real Housewives of New Jersey star.
At Astera Cancer Care, Dr. Nissenblatt's contributions as a leader in medical oncology and as a dedicated, passionate, philanthropy-minded person are always front and center. Specifically, Dr. Nissenblatt has participated in, energized, and even founded several organizations that exist to help patients in need, and cancer patients in particular.
AMERICAN CANCER SOCIETY'S ANNUAL NIGHT OF WINE AND ROSES GALA
In the 1980s, Dr. Nissenblatt and his wife, Marlene, attended this ACS fundraising event, raising a respectable $75,000 for cancer care each year from about 175 attendees. Then, in the early 90s, Dr. Nissenblatt began working on the Ad Journal event, which soon raised three or four times as much money for the charity.
By 1997, Dr. and Mrs. Nissenblatt were the event's co-chairpersons and remain so today. As a result, the annual gala has become a must-go event, attracting 600 attendees and earning more than $500,000 for each of the last three years. It is the largest ACS event in New Jersey and one of the
largest on the east coast.
THE CHALLAH FUND
In the late 1980s, Dr. Nissenblatt attended a funeral and noticed a charity box for a small fund founded by the decedent, the germ of inspiration. Later, he had a cancer patient who wasn't doing well. He decided to give this person a loaf of Challah, the "bread of hope," to help inspire her to get better. It worked.
Soon Dr. Nissenblatt was personally giving 18 to 20 loaves each Friday for the Sabbath, but not just to people of the Jewish faith. Patients who received the gift began offering to help, and one suggested incorporating the Challah Fund, Inc. to become self-sustaining. Since then, people of all religious and ethnic backgrounds have looked forward to receiving challah each Friday. People understand bread as one simple necessity of life, and so they recognize that gift as a subtle message that there is hope for survival.
Challah Fund volunteers deliver 130 Challah loaves each week to patients in the Astera Cancer Care office and local hospitals. The fund's ten volunteers represent four faiths. The exchange of a few encouraging words, along with the gift of an essential nutrient of life given by strangers and funded anonymously, inspires optimism and harmony. Founded and directed by Dr. Nissenblatt, the Challah Fund has distributed more than 200,000 loaves of the Bread of Hope.
THE MICHAEL J. NISSENBLATT PARTNERS IN HEALING FOUNDATION
Some ten years ago, Dr. Nissenblatt received a request from a patient's husband to have his wife, who had only a few days left to live, transferred to RWJ University Hospital so that her family could be by her side. Two weeks later, Dr. Nissenblatt received a check for $10,000 from the husband as startup money for a foundation to help patients with financial hardship pay for transportation costs and other unexpected and uncovered medical expenses.
In 2009, Dr. Nissenblatt and Mr. and Mrs. Richard Anslow created this foundation, which funds transportation costs, costly medication copays, equipment purchases, needed home-mobility upgrades, and more for many patients.
THE NISSENBLATT FUND FOR CANCER PATIENT SERVICES AT RWJ UNIVERSITY HOSPITAL
This charity, founded by Dr. Nissenblatt, exists to help support Robert Wood Johnson University Hospital in its mission to provide exceptional cancer services, including comprehensive care and care navigation services to patients and their families. The goal is to support patient navigation, patient support, psychosocial services, and patient survivorship.
THE DR. MICHAEL & MARLENE NISSENBLATT SCHOLARSHIP
Sponsored by Dr. and Mrs. Nissenblatt and the East Brunswick Regional Chamber of Commerce's Charitable Foundation, from 2005 to 2015, this program offered $2,000 scholarships each year to three or four postgraduate students pursuing careers in healthcare. The focus was "to bring compassionate medicine to the bedside." The scholarship awarded more than 15 students who embraced and brought the human spirit and human touch to healthcare.
FRED'S TEAM
Dr. Nissenblatt is an avid runner who has competed in and completed the New York City Marathon 19 times. Dr. Nissenblatt joined this team of 900 NYC marathoners to help raise money to fight childhood leukemia. He has generated and contributed more than $350,000 in donations.