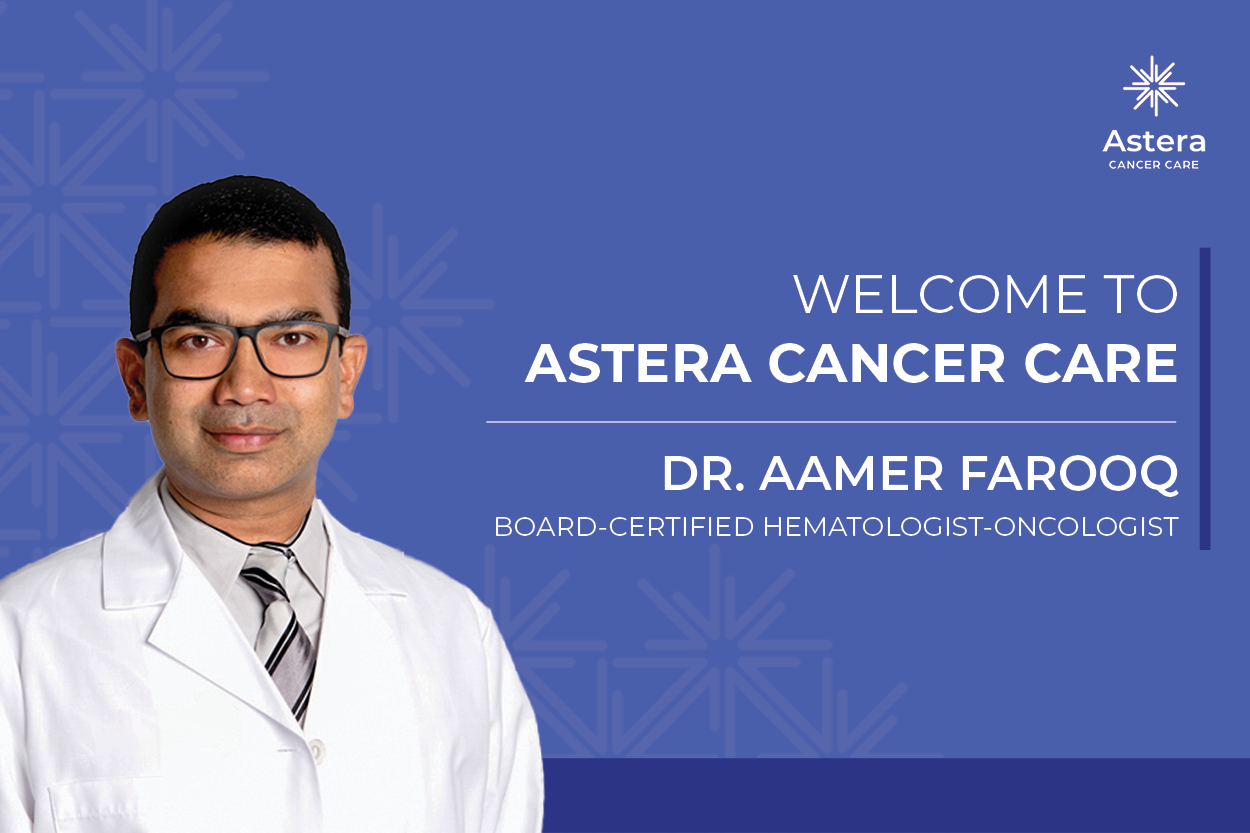 Aamer Farooq, MD Joins Astera Cancer Care
Astera Cancer Care, an independent and physician-owned multi-specialty community oncology practice, is proud to announce the addition of board-certified hematologist-oncologist Aamer Farooq, MD. Dr. Farooq will practice at:
629 Cranbury Rd, East Brunswick, NJ 08816
9 Centre Dr, Suite 100, Monroe Township, NJ 08831
1 Washington Blvd, Robbinsville, NJ 08691
"We are excited to welcome Dr. Farooq to our practice," said Bruno S. Fang, MD, President of Astera Cancer Care. "Dr. Farooq brings a wealth of knowledge and expertise in cancer treatment and research, further strengthening our commitment to delivering cutting-edge treatments and personalized care to our patients."
Dr. Farooq has extensive experience treating all types of cancer but takes a special interest in lung and gastrointestinal cancers as well as hematologic malignancies. He has published his research in several peer-reviewed journals: The Annals of Thoracic Surgery, Journal of Thoracic Oncology and Journal of Clinical Oncology. Dr. Farooq was named Best Hematologist Oncologist by AY Magazine and won the prestigious Tsuguo Naruke Award for a research project at World Lung Cancer Conference. Dr Farooq is the Ex-President of APPNA Hematology and Oncology Chapter.
"I strongly believe in the philosophy of shared decision-making," Dr. Farooq said. "Together with my patients and their families, we choose a care plan based on evidence-based medicine that balances the risks and expected outcomes with patients' values and preferences in mind."
Prior to joining Astera, Dr. Farooq served as an attending physician with Florida Cancer Specialists. He completed his residency at the University of Tennessee Health Science Center in Memphis and a fellowship in Hematology-Oncology at Roswell Park Cancer Institute. Dr. Farooq is fluent in English, Urdu, Punjabi, Hindi, and Saraiki.
To make an appointment with Dr. Farooq, please call (732) 390-7750